Aaron West, 9/14/04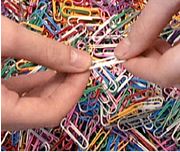 Joan Hansen, a fellow film buff, spent this past weekend in Rome, GA, checking out the 2004 film fest up there.
Thought I'd give you a first hand account of RIFF 2004. It was great. Actually, in my humble opinion, it was a smashing success. Rome seems to have welcomed RIFF enthusiastically! I saw eight doc features, five narrative features and twenty-nine shorts during the four day festival. It was a real treat that five of the features I attended had the director (sometimes the producer and/or actors also) in attendance for Q&A. I was surprised that four of the five directors that I saw, attended the entire festival. I think that this first year of the festival in Rome, that Barry Norman and Jake Jacobson and everyone who helped them, did an excellent job. Kudos to Jake for his movie selection of the 818 movies that he screened, I enjoyed everything I saw. Can't wait to see what next year brings! Just hope that more of our Atlanta Cinefiles will be there too!
**** Paper Clips - On opening night the co-directors Elliot Berlin and Joe Fab were in attendance for a lively Q&A as well as Linda Hooper, the Principal of Whitwell Middle School, and the teacher in charge of the paper clips project Sandy Roberts. The project was to collect a paper clip for each individual exterminated by the Nazis. On Sunday, RIFF brought a bus load of students and teachers for an additional screening at the De Soto Theater and the RIFF award ceremony. Very nice end to a great festival.

**** Reinventing the Taliban - Director Sharmeen Obaid in attendance for Q&A and the entire festival. The documentary is about the disturbing rise of radical Islamic fundamentalism in north west Pakistan.

**** She's Got Game - behind the scenes documentary about the women in the pro tennis circuit that do not make it to the top.

**** See You In the Future - I did not want to see this because it's about cryogenics, but the documentary was excellent and engaging! My friend Bob Baker irreverently summed it up - 'they're making corpse-scicles!'

**** Point of Order - this documentary was a last minute substitute for a film that couldn't be shown because it was received in the European format PAL! 'Point of Order' is footage from the 1954 Army - McCarthy hearings, the hearings resulted in McCarthy's eventual censure for conduct unbecoming a senator.

**** Ice - excellent documentary about the crystal meth epidemic in Hawaii and the havoc it wreaks.

**** Bluegrass Journey - enlightening documentary that celebrates the virtuoso talent and devoted fans of bluegrass music.

**** Bette Fredricks: A Life Lived - Fun and outrageously boozy mocumentary of the life of an actress that mercifully was not really lived. It was a perfect midnight movie!

** Mendy - adventures of a young ultra orthodox Jew who steps into the secular world.

**** All or Nothing - Fun journey. A daughter graduates from college and visits her father who is working in Russia. The real life daughter Gabrielle Bloch and her father directed and produced this film and were in attendance for Q&A and the entire RIFF festival.

**** Who Nose? The real Doc Hollywood stars as Dr. Neil and he is in search of love, the next woman he meets, he's going to marry!?! Directors Neil Shulan and Zoe Haugo were in attendance for Q&A and the entire RIFF festival.

**** Barbeque is a Noun - documentary about the passion that goes into the making of Barbeque. My search is on for the best barbeque in Atlanta now that I know what I'm looking for!

**** Finding Home - This closing night movie was beautifully shot. A woman inherits her grandmother's inn on the cost of Maine. The director Lawrence D. Foldes and his producer wife Victoria Meyerink were in attendance for Q&A and the entire festival.