Posted by Aaron West, 6/6/04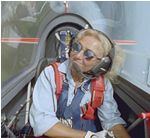 America's Heart and Soul
Directed by Louis Schwartzberg
Running Time: 84 minutes
I have to admit, I wasn't particularly energized after first seeing the trailer for America's Heart and Soul. It looked like a lengthy treatise on patriotism, centered on mundane "triumph of the human spirit" stories. Don't get me wrong; i'm extremely patriotic, but I don't enjoy being preached to or manipulated by any entertainment medium. So I entered the theater apprehensively, and approached the film defensively rather than with an open mind. 84 minutes later, I walked out pleasantly surprised and somewhat moved by the images I saw.
Director Louis Schwartzberg used to spend his time running Energy, one of the largest stock film libraries in existence. He sold out to Getty Images and launched BlackLight Films, where he has moved into television and feature film work. He has spent over 35 years travelling across the country collecting images of cityscapes, nature scenes, or just ordinary people doing what they do. You've probably seen his work on several occasions, in commercials, films and television shows. During his time with Energy, Schwartzberg met some interesting people and later captured them for his first feature film project.
America's Heart and Soul can't easily be called a documentary, since there isn't a core subject, nor is there a steady narrative. It is a collection piece, with about 25 vignettes that shed light on a hobby, lifestyle, or career. His subjects include a dairy farmer, a bicycle messenger, an acrobatic flyer, a gospel singer, a blind mountain climber, and even a cerebral palsy running team. All of these "characters" approach their life with a certain amount of conviction. They are all passionate about what they do, if a little intense and obsessive at times, which makes them all colorful individuals who are easy to watch.
The central theme of America's Heart and Soul is that these individuals are in fact the "heart and soul" of America. They actualize where Americans excel and what makes them proud. There is some patriotic imagery, but it isn't overdone. Aside from a couple shots of the American flag, and a couple cheeky comments about religion, the nationalistic portion of the film is minimized. Contrary to my initial fears, the film only seems preachy once, when it dedicates a few minutes discussing Pittsburgh steel mills and the fears that companies may be lured away by the cheaper labor overseas. Fortunately that was a brief interlude, and the movie steers back on track immediately after its statement is made.
The subjects are entrancing, sometimes funny, and at times quite moving. It isn't through some directional sleight-of-hand that Schwartzberg affects the audience, but it is the personal stories themselves. In a word, they are fascinating.
As can be expected, considering Schwartzberg's career, his first project is a visual feast. From the opening shot, he overloads our senses with bite size doses of spectacular imagery, more than likely from his own library. The personal stories provide the context, but the visuals are what propel the film along and keep us engaged. At times there does seem to be a little too much cut and paste work, but at no time do the images cease to be absorbing.
America's Heart and Soul ultimately succeeds because of the personal touch of the director himself. We can tell that collecting these images, meeting these people, and drawing inspiration from them is a labor of love for Schwartzberg. The images, the editing, the entire production are all the sum of a conviction that Schwartzberg shares with his subjects, and it shows.
Score: 7/10