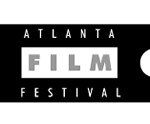 Beginning, Saturday, June 12, I will embark on a weeklong voyage through the world of cinema. At this point I plan to attend 35 films, but my schedule is very much subject to exhaustion and whim. The final number is still up in the air.
This section will serve as a special extended screening log throughout the festival.
Days

Saturday, June 12
Sunday, June 13
Monday, June 14
Tuesday, June 15
Wrap-Up
Films
Agronomist, The
Assisted Living
Bang Rajan
Blackballed: The Bobby Dukes Story
Bright Future
Control Room
DiG!
Haute Tension
Let the Church Say Amen
Lipstick & Dynamite, Piss & Vinegar: The First Ladies of Wrestling
Metallica: Some Kind of Monster
No Providence
Primer
Proteus
Snow Walker, The
Unknown Soldier
Zatoichi: The Blind Swordsman
The first day went well. As I expected, I liked all four films I saw and one was pretty close to a masterpiece. All but one screening (Agronomist) had a Director's Q&A after the screening, all of which were very insightful. Of the four films I saw, Primer and DiG! really stand out, and I expect they'll be my favorites of the festival. Proteus was surprisingly good, while the Agronomist was somewhat disappointing, but still a good watch. Watching 4 films in a single day, while still finding time to eat, drink, urinate and write, proved challenging, but I managed to survive in relative comfort.
Proteus
Directed by David LeBrun
Documentary
Running Time: 60 minutes


Proteus, documentarian David LeBrun's first feature, was over 21 years in the making and maybe one of the most ambitious documentaries I've ever seen . It's part experimental/animated film, part documentary about the thought process of an era, but mostly a biography about Ernst Haeckel, a biologist, artist, evolutionist, doctor, and hopeless romantic.
The visual manner in which David Lebrun tells his story is as impressive as the project's scale. The beautiful paintings, specifically Haeckel's and Gustav Dore's, serve as a stunning visual canvas that overwhelms the senses, sometimes at the cost of the documentary itself. I find myself "zoning" to the visuals on several occasions during my screening, and at times had to piece together certain portions of the narrative that I missed while my mind was absent. I wasn't complaining; the animated shots of Haeckel's drawings were a form of visual bliss.
Proteus covers a lot of ground for its short, one-hour running time. Most of the narrative is focused on Haeckel and his life obsession with radiolarian, tiny single cell creatures that reside on the ocean's floor. Haeckel discovered more than 4,000 unique species of radiolarian, and was able to document them in great detail thanks to his artistic talent. Proteus also captures the mindset of 19th century thought, just following the enlightenment and in the midst of the age of discovery. The artistic aspect comes from two sources: from Haeckel's etchings, but also in the unlikely form of Samuel Taylor Coleridge's "Rime of the Ancient Mariner". Coleridge's epic and the accompanying artistry of Gustav Dore ties together nicely with the seafaring story of the Challenger, while also giving Proteus an inkling of romanticism that is representative of the period.
Score: 7/10

Dig!
Directed by Ondi Timoner
Starring The Brian Jonestown Massacre, The Dandy Warhols
Documentary
Running Time: 110 minutes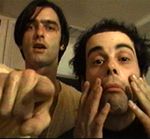 I guess you could call me a casual Dandy Warhols fan. I've listened to college radio for about a decade, so I've heard songs such as "Bohemian Like You" and "Not if You Were the Last Junkie on Earth" several times. I've only owned one of their albums, "13 Tales from Urban Bohemia", which I have enjoyed immensely, but it has never been in my heavy rotation for very long. I do respect them for managing to find a balance between their indie-rock beginnings, while obtaining limited commercial success. Brian Jonestown Massacre? Never heard of 'em, at least not until now. Thanks to Dig! for making that introduction.
Dig! is about the Dandy Warhols' rivalry with the Brian Jonestown Massacre, beginning with their San Francisco beginnings as local indie bands, and ending seven years later, with plenty of chaos and dysfunction in between. Anton Newcomb, the misguided, egomaniacal, but enormously talented founder of BJM becomes the film's centerpiece. His disconnection and anti-commercialist attitude is contrasted with the togetherness of the Dandys and their subsequent success. He retains his artistic purity by not "selling out", but struggles and even starves on occasion as a result. The rivalry between the bands originates with this contrast and continues partly because of Anton's jealousy towards the Dandys success, but he also feels that they compromised by succumbing to the record label machine and becoming a product rather than art. Oh, and there's drugs. Lots and lots of drugs.
Anton is quite simply a freaky dude, and not always in a funny/cool way (although there's plenty of that too). He shows his fiery temper often, both on-stage and offstage, and is not hesitant to attack those closest to him, both physically and verbally. His vibrant personality sucks the audience in, and provides most of the comedy of the picture, even if some of that comedy is at the expense of his foolish ideals. Even with his shortcomings, there is no question that Anton is a musical genius. He claims to be proficient in 80 instruments, and his prolificacy as a songwriter is astounding, as he somehow manages to record several full-length albums just by borrowing studio time in his early days. Narrator Courtney Taylor of the Dandy Warhols constantly praises Anton's musical genius, but laments the personal instability that keeps him from being noticed. The overall consensus of most everyone in Dig! is that BJM could change the entire field of music if it weren't for Anton's mental imbalance and drug use.
Interested in the music? See for yourself. Brian Jonestown Massacre is not for sale, as Anton continually reminds us. His music is a gift for all to hear, thus the entire BJM discography is available in its entirety from the band's website. There's also a cute statement from Anton condemning the film project.
Whether you are a fan of the artists, the genre, or a fan of music at all is irrelevant. Dig! is an exceptionally crafted film, which ranks up there among the best musical documentaries in existence. It may very well be the best, but only time will tell, as it opens in October with a much better print.
Score: 9/10

The Agronomist
Directed by Jonathan Demme
Starring Jean Dominique
Documentary
Running Time: 90 minutes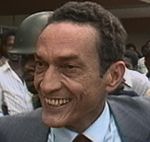 An agronomist is an agricultural engineer of sorts; one who specializes in streamlining crop production for maximum efficiency. It is also the first chosen career for Haitian citizen Jean Leopold Dominique. Only Dominique didn't own any land, thus couldn't utilize his degree and knowledge in the field, so he had to look elsewhere for his life's pursuit. He found his calling with broadcasting and established Radio Haiti in 1968. Radio Haiti became the voice of the people and Dominique became a human rights activist against tyrannous rule. The life of this agronomist serves as the launching pad for a tour of Haitian political history over the last forty years. Dominique lived through several oppressive regimes, beginning with "Papa Doc" Duvalier. He was exiled twice for his political affiliations, yet he did make a difference with the people. He was instrumental in Haitian political stability and the first Haiti free elections, even if the peace was short lived.
The Agronomist is a well-edited documentary, and Jean Dominique's conviction and occasional eccentricity makes him an enjoyable subject. Unfortunately, as many filmmakers are prone to do, Demme gets caught up in Dominique's civil rights causes. While admirable, they do detract from the historical value of Jean's life. The Agronomist criticizes U.S. policy often, perhaps justifiably so, but it makes the film look aggressive and maybe a little slanted. I am not accusing Demme of slanting the facts. I'm no scholar and can't prove otherwise, but it does resemble other documentaries I've seen that have a manipulative bent, especially at film's end.
Score: 6/10

Primer
Directed by Shane Carruth
Starring Shane Carruth, David Sullivan
Science Fiction
Running Time: 78 minutes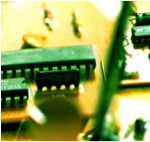 This is one of those films that I cannot write about so soon after the viewing. Like some other great films of recent years, such as Memento and Mulholland Drive, it requires some absorption time. A second viewing would help as well, because Primer is about as comprehensible as those two after a single viewing. Phenomenal film though, even more impressive for how little it cost. It does have a low budget feel, but it certainly doesn't look like it was made for $7,000. There's a great deal of dialog here. In fact, most of the film is talking, fast talking, sometimes unintelligible, sometimes overlapping. For a newcomer. The director did a good job at blocking his shots, creating a bright color canvas, and keeping it visually interesting.
The director/writer/actor did a Q&A afterwards and revealed that he was an utter novice. He had audited a film class for two weeks, watched a few TMC movies, and that is about the extent of his cinematic background. Now he's rich. Say it with me -- what a bastard! Seriously, his is a nice story. He's put in plenty of blood, sweat and tears into this project, and he deserves success more than a lot of people who already have it.
Score: 10/10

Five films in one day is tough; take my word on it. There had been a nasty storm the night before that infringed on some of my beauty sleep, so it was even tougher. Luckily I had a steady dose of caffeine and a good set of movies to keep me going. There were no Director Q&A's today, which isn't surprising since 4 of the 5 films were from another continent, while the other one might as well have been (Northwest Territory, Canada).

The Snow Walker
Directed by Charles Martin Smith
Starring Barry Pepper, Annabella Piugattuk, James Cromwell
Epic Drama
Running Time: 103 minutes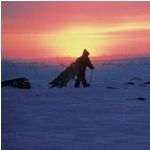 Combine Nanook of the North (or Atanarjuat if you want to be more recent), Cast Away and Gerry and you would come out with The Snow Walker, or something close. This slow-paced arctic adventure is packed with breathtaking cinematography that shows off the vast Northwestern Territory countryside.
Set in the early 50s, Barry Pepper plays Charlie Halliday, a hotshot pilot and former war hero. He has flown out of Yellowknife for 12 years now and is considered one of the best pilots in the region. He trades with an Eskimo family during one excursion, only they ask for a bit more. They beg him to fly their sick daughter to Yellowknife for medical attention. At first he resists, but they appeal to his greed by offering him some valuable ivory in return. They experience some engine damage during the medivac and have to down the plane in a bed of water, relatively unscathed. To add to the problem, Charlie had to deviate from his flight plan when he switched course, so nobody knew where to find him in a territory 3x the size of Europe.
The Snow Walker is not without its problems. For some reason, director Charles Martin Smith decided to interject a subplot involving an ambitious pilot with questionable motives during the search for Halliday. Frankly, it was a waste of screen time; losing 10 minutes would have made it more cohesive movie, with better flow. There were also some inconsistencies with the vocal performance of newcomer Annabella Piugattuk that stick out.
Even with its flaws, the cinematography and the strong physical performance by Barry Pepper make The Snow Walker worth seeing.
Score: 6/10

Bang Rajan
Directed by Tanit Jitnukul
Starring Jaran Ngamdee, Winai Kraibutr
Historical Epic
Running Time: 113 minutes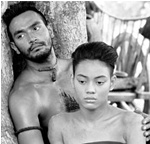 Last year I reviewed the most successful Thai film ever, an historical epic titled "The Legend of Suriyothai." I was impressed by many of the technical details, but disappointed by the flat, poorly acted characters along with the too predictable plot. Bang Rajan is a similar to Suriyothai in scope and size, although it debuted in Thailand the year prior. Still, I somewhat expected to see a Suriyothai part two. I was wrong.
Of course any Thai epic is going to be excessively and perhaps unrealistically patriotic. Bang Rajan is no different, which is evident just from the premise outlined during the opening credit sequence. The overall gist is that an army of villagers stave off a 100,000 man strong Burmese army. Bang Rajan still manages to infuse enough character depth to attach the audience to the narrative. The most notable examples of this are the two lead characters and their love relationships. Meong begins the film as a worthless coward, at least in the eyes of his beloved. Gradually, her impression of him changes and they come closer. Inn's relationship with his wife flourishes when she becomes pregnant and he practices rigid self sacrifice in return. Both couples had great chemistry, which resulted in some of the best scenes in the film.
The battle scenes in Bang Rajan equal the technical achievement of Suriyothai, if on a smaller scale (and budget). One key difference, however, is the violence. The battle scenes are grotesquely violent, which may prove difficult for sensitive Americans to watch. The final battle is probably the bloodiest battle scene I've ever seen. Yet the violence contributes to the intensity and absorption of these scenes. They are as rousing as they are bloody.
After the success of Suriyothai and Bang Rajan, we can be certain not to have seen the last of the Thai historical epics. The latest import gives me hope for even better to come.
Score: 8/10

Bright Future
Directed by Kiyoshi Kurosawa
Starring Jo Odagiri, Tadanobu Asano, Tatsuya Fuji
Comedy Drama
Running Time: 92 minutes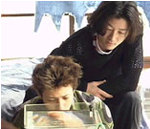 Kiyoshi Kurosawa (no relation) is among the recent Japanese New Wave directors who has already received some positive critical notice. His method may be a bit more experimental and avant-garde compared to traditional Japanese directors. Bright Future continues that trend.
Nimura is a dreamer, isolated from society, a misfit of sorts. He holds a dead end job, has no aspirations beyond that. His hobby is "music appreciation", but he doesn't prefer any type or genre. He is a lost soul, merely drifting through life without motivation, or even skill. His best friend Arita has more ambition, but not towards anything constructive. He is on the nihilistic side and composes a ridiculous plot to acclimate a deadly jellyfish to fresh water and release it into the Tokyo water supply. Of the two, he is the leader. He tells Nimura when to stay, and when to go, and is the true plot motivator throughout the film, even when he is absent.
Bright Future paints an abysmal picture of Tokyo youth. The title itself is cynical about the state of things and what's to come. These idiots will soon take over and one can only wonder what life will be like then. What could be worse than a deadly jellyfish outbreak? Kurosawa's youth have no values, no respect for their elders, not to mention their fashion taste. Kurosawa clearly states their worthlessness in the form of Arita's father. He loses control at one point and vocally states the entire film's thesis, only to regret his words later.
Bright Future is odd, slow, and heavy on symbolism. While the characters are detestable, they are comically so. They effectively satire themselves just by showing their misguided idiocy. Kurosawa's message is loud and clear, even if the presentation is a bit muddled.
Score: 6/10

Zatoichi: The Blind Swordsman
Directed by Takeshi Kitano
Starring Takeshi Kitano, Tadanobu Asano, Yui Natsukawa
Samurai Comedy
Running Time: 116 minutes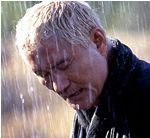 I had lofty expectations for this picture. Maybe too lofty. I love swordplay pictures as much as the next guy, and this was supposed to be among the best. I found out otherwise. Judging from the reactions of others around me and from the reviews I've read, my opinion is definitely the minority, so take it with a grain of salt.
Zatoichi is first and foremost a satire. It pokes fun of numerous samurai films, including the original Zatoichi series during the 60s. The satire was cute in the beginning, but the same joke gets tired after awhile. This may have been forgivable had the other characters been worth watching, but I found them to be dull as can be. The gambling scenes were monotonous and repetitive; they use the same joke about Zatoichi's "blind luck" repeatedly, when it wasn't that funny the first time. Zatoichi ends with a Riverdance-like sequence that is mildly amusing at first, but like the rest of the jokes, it gets old fast.
I once heard a mother tell her hyperactive child: "the first time is funny, the second is silly, but the third is a spanking". If Takeshi Kitano had such a mother, his behind would be cherry red right above now.
Score: 3/10

Haute Tension
Directed by Alexandre Aja
Starring Cecile de France, Maiwenn Le Besco, Philippe Nahon
Slasher
Running Time: 85 minutes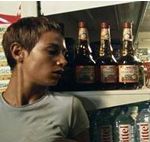 The French have proven, yet again, that they can take the conventions on an American genre and make them their own. The timing for this project couldn't be better, with the horror genre at an all time low in America. The French breath life into the genre by focusing on the frame, the character, and of course gore, lots and lots of bloody gore.
Haute Tension is not for the squeamish. It is rated NC-17 in the states for strong graphic violence. Consider yourself warned.
Haute Tension contains something all other slasher films lack - solid cinematography. Every frame is gorgeous (or disgusting, as the case may be). The plot itself is as cheesy as any American production, but the overall filmmaking talent ranks up there among the best in French cinema.
Score: 7/10

The weekdays will be a little different. The smaller films are screened in the afternoons when the audience is sparse, while the higher profile films show at night. As it turns out, No Providence was a World Premiere screening. It doesn't even have an IMDB listing yet. Sadly, there were only about a dozen people in attendance. Unknown Soldier was a local project. Neither of those films will likely open anywhere, so my thoughts will be much shorter than usual. My surprise of the day was Let the Church Say Amen. The synopsis didn't excite me at all and I almost considered skipping it. Good thing I didn't.

Let the Church Say Amen
Directed by David Petersen
Documentary
87 minutes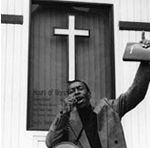 Let the Church Say Amen is about an inner-city storefront church, located in the heart of a poor area in Washington, D.C. It is the definition of lower class "holy roller", with an ex-druggie pastor who delivers rapid fire, electrifying sermons, dances around like James Brown, and sweats as much as Shaquille O'Neal during the fourth quarter of Game 5. Most importantly, he provides an inkling of hope and support to those who can't achieve their own ends alone.
Let the Church Say Amen explores the lives of the church's core group. Darlene Duncan is a mother of eight, has a 6th grade education, and as you can imagine does it all on a meager income. She pursues becoming a Nurse Assistant, but that requires passing an exam that includes reading and math. David lost his job, his children and his home due to his drug habit. Now clean and living in a homeless shelter, he hopes to one day be able to afford a small apartment with a yard and a tree. The most tragic story is that of gospel singer Ceodtis or "Brother C" as he is called. He suddenly loses his teenage child to gang violence and all he wants is justice. Only he can't get answers or action from the local police force.
What I like most about this film is that there are no excuses, or finger pointing. This is no political crusade to clean up the inner-city system, or to allow opportunities for impoverished urban residents. Everyone is already aware of such problems, including the politicians. They aren't helping now and it's unlikely that a small documentary film will suddenly change that. "Let the Church Say Amen" is simply a picture of a community that does what it can to fend for itself and take care of its own.
Score: 7/10

No Providence
Directed by Justin Lundstrom

Running Time: 94 minutes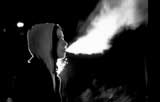 This will probably never see a major release in any market, so I'll be brief. No Providence is a low-budget "white trash" drama set in Providence, Rhode Island (surprise!). Every single character is despicable, idiotic, self-absorbed and makes the wrong decision on every occasion. If only we could combine this film with Dogville and plant Grace in the finale. Justice would be done. No Providence is a rough film, hard to watch with some glaring narrative mistakes. Not horrible, but not real good either.
Score: 5/10

Unknown Soldier
Directed by Ferenc Toth
Running Time: 78 minutes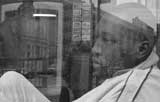 Another picture that will probably never be picked up, and was probably only screened here because it was a local production. I'm all for promoting local film, but not this one. This is a dour, existential tale of hardship. Ellison suddenly loses his father at the age of 18. His father leaves nothing behind for his son. To make a long synopsis short, Ellison is a well-mannered kid that has to fend for himself on the street. Not a pretty tale, but not a bad movie.
Score: 6/10

Metallica: Some Kind of Monster
Directed by Joe Berlinger and Bruce Sinofsky
Documentary
Starring: James Hetfield, Lars Ulrich, Kirk Hammett
Running Time: 135 minutes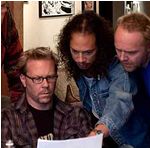 Let me preface this review by saying that I'm not a Metallica fan. I did enjoy their first three albums, ages ago. I grew out of metal and they grew into pop (sorta), so the parting worked out for both of us. I have absolutely loathed everything I've heard from them in the years since, especially the stuff off their latest LP, which happens to be the subject of this documentary.
Picture Metallica, the most successful heavy metal band ever, 20 years into their career, having sold over 90 million albums. It's not easy thinking of them as daddies who take their daughters to ballerina class, or art connoisseurs that enjoy drinking fine wine at auctions. This is a side of Metallica that not only have we never seen, but we probably couldn't have even imagined given their aggressive facade. This is, in essence, the subject of the documentary. Sure, it all takes place during the recording of St. Anger, and there's a lot more background and history with the band. Most of their problems, however, stem from their being old guys who just can't hang onto the "metal up your a**" adage that they coined in their heyday.
Fortunately for the filmmakers, this is most likely the best time in Metallica's career to capture events in a documentary. Bassist Jason Newstead has just left the band due to creative differences, James Hetfield is still struggling from alcoholism, and band cannot talk to each other without resorting to shouting to get their points across. It was a tense setting that inhibited creative energy rather than encouraged it. The band hires a $40,000/month shrink in order to get into working shape again. Due to the therapy theme, the documentary is much more invasive than others. We really get to see inside the musicians. We see their demons, their frustrations, and we see them at their most vulnerable.
Through therapy, the band does make slight progress recording at a Presidio location in San Francisco, but some difficult times loom ahead. Over time, Metallica, specifically Hetfield, becomes irritable again and the fighting resumes. The recording session ends when James Hetfield checks himself into an alcohol treatment facility. The rest of the band lies in limbo, not sure when, or even if James will return to complete the album. What began as a glimpse at a troubling time in the band's life, becomes one of the most significant points in their entire career.
The story is divided in half: before rehab and after rehab. James isn't the same person when he returns from treatment. His newfound sobriety is important to him, as is his career, and it isn't apparent whether the two can coexist. At times the new Hetfield seems self-absorbed, childish, and sometimes seems like a prima donna, while at other times he shows genuine compassion and good deductive reasoning. His is a remarkable story of a complicated, changed man.
Filmmakers Joe Berlinger and Bruce Sinofsky are already established and highly respected documentarians, having received critical raves for their work on Paradise Lost and Brother's Keeper. They are the secret ingredient that sets this film apart from an episode of VH1: Behind the Music. Their talent experience is apparent in every scene. They constantly get good shots, especially when they capture reactions of band members during debate and conversation. Of course the best documentarians are great editors and that is truly the case here. This film is cut together carefully so that the narrative flows naturally, without any bland moments.
Some Kind of Monster may seem unnecessarily long to many, clocking in at over two hours. I feel the length was necessary and can't think of a scene that should have been cut. Trimming the film down for the sake of running time would have resulted in an incomplete, unbalanced story.
Score: 8/10

Tuesday, June 15
My adventure continues. Afternoons at the Rialto are when the hardcore come out. I was talking to a few of the regulars I've seen often. Most of them take in 4-5 movies a day, plus they've been doing this every year for years. They're normal people with day jobs who use this as their annual vacation, and who can blame them really? At roughly $100 or so for an all-access pass, it's cheaper than travelling anywhere. You see good movies all day and they have free parties with food and drink at night. Not a bad deal, if you ask me, and I'm having a great time. I wouldn't be surprised if I do the same thing next year.

Lipstick & Dynamite, Piss & Vinegar: The First Ladies of Wrestling
Directed by Ruth Leitman
Documentary
Running Time: 75 minutes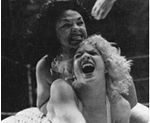 There are some funny women in this documentary about the early days of women wrestling. 82-year old "Killem" Gillem, who spent her post-wrestling career as a Lion Tamer, lived up to her name everytime she was on screen. She tells it like it is, even if she's so incomprehensible that they had to use subtitles. As for the doc, I didn't care for how they approached the subject. They used several talking head interviews with wrestlers from the period. We are eventually given a complete story, but it is served piecemeal. This does keep the focus of the film on the girls, which I'm sure is what the director intended, but their stories are less enticing without some form of context. I walked away not really understanding what women's wrestling was and how much it impacted what wrestling has become today.
Score: 5/10

Blackballed: The Bobbie Dukes Story
Directed by Brant Sersen
Starring: Rob Corddry, Paul Scheer, Dannah Feinglass, Rob Riggle
Mockumentary
Running Time: 91 minutes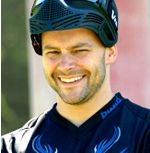 Absolutely hilarious. Easily my pleasant surprise of the day. Blackballed is about ex-paintball champion Bobby Dukes and his long-awaited return to the sport. In 1993, he was guilty of the worst crime that can be committed in the sport -- he wiped. That means he was shot, but wiped the paint off his body before a judge could see, so in essence he cheated. From that day forward, he was disgraced and his legacy tarnished. Now, 10 years later, he hopes to make a comeback, put together a team and compete for the championship again.
There is a certain personality type that the "sport" of paintball attracts, which this film makes fun of. Some have pent-up aggression, some are less than intelligent, others are a combination of the two. The latter type is pure comedy gold everytime they open their mouths. Be warned, Bobby Dukes causes tear-inducing laughter.
Score: 8/10

Assisted Living
Directed by Elliot Greenebaum
Starring Michael Bonsignore, Maggie Riley
Comedy Drama
Running Time: 78 minutes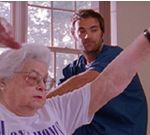 Roger Daltrey stirred the nation when he exclaimed "I hope I die before I get old!" Watching Assisted Living, one can understand why. Aging is the opposite of glamourous, so the pitfalls of senior citizenry don't exactly get studio executives excited. Thank heaven for independent filmmakers, such as Elliot Greenebaum, who not only have the courage for such subject matter, but have the creativity to make it appealing.
In Assisted Living, aging is approached from the perspective of Todd, a young slacker who probably would share the Roger Daltrey sentiment. Todd works in a nursing home, mostly performing odd jobs such as mopping, cleaning up dead animals outside, fetching the lost dog, but he also takes care of some guest special needs. He comes to work looking disheveled, with unkempt hair, 3-days growth, looking like he slept on a subway the previous night. He smokes pot constantly, beginning when he wakes up, continued during the commute to work, with sneak tokes at every opportunity during his day at work. Even with his personal flaws, Todd is a fun guy, with a pleasant personality and people take to him.
Todd develops a special connection to Mrs. Pearlman, a pleasant enough lady who is fighting off the early stages of alzheimers. She sees a bit of her son in Todd and latches on. According to Mrs. Pearlman, her son left her there long ago and now resides in Australia. At first she's somewhat of a bother to Todd, but over the course of the film, as her condition becomes worse, he does sympathize with her.
Assisted Living shows a tremendous amount of courage by attacking a subject matter that most directors would leave well enough alone. Some people are quick to dump their parents into a care facility, without much thought for their feelings. In the case of Mrs. Pearlman, she has essentially been forgotten by her living family members, yet she is able to connect with Todd, someone who obviously has no direction in his life. Assisted Living questions what sort of responsibility we have towards our elder family members.
Contrary to how this review makes it sound, Assisted Living is not altogether serious. In fact, it's quite an effective comedy. One scene has Todd dialing an internal phone line for patients, only to pick it up in the other room and pretend he is that patient's mother or father in Heaven. It may sound cruel, but it's actually both touching and humorous. These sequences are funny, but they also fill the gaps and keep the audience involved through the thematic elements.
Score: 8/10

Control Room
Directed by Jehane Noujaim
Documentary
Running Time: 84 minutes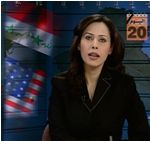 With each war, the media's role has evolved, expanded and redefined its role. The recent war in Iraq was a media spectacle, unlike any previous war including the Gulf war in 1991. Control Room examines the medias role in the last war and questions the media's and government's responsibility when it comes to objectivity, journalistic integrity and of course, spin.
Control Room focuses on two locations. Central Command (abbreviated Centcom) is the media center for all communications in Iraq during the war. The big media players, such as BBC, CNN, ABC, even Al-Jazeera all have offices there. There are also American press liasons, many of whom conduct press conferences and interviews with the media outlets. The other location is Al-Jazeera itself, the largest Arab news outlet. Al-Jazeera becomes the primary focus of the film from both locations.
Control Room is a bold documentary. Some have accused it of being slanted, perhaps rightfully so. Others have called it anti-American, which I think is a bit too strong, but I can see how some might think that. Many of those who were working for Al-Jazeera were Iraq natives. It's only natural that they would not agree with American policy in the region, and they are critical of the administration at several points in the film. But don't expect a relentless Bush bash. They do present American counter-arguments on most key points, in the form of Lieutenant John Rushing, whom I will discuss in more detail shortly.
Control Room says a great deal about media media bias, and most of its points are accusatory. Networks such as FoxNews are singled out, but all American networks are accused of pandering to American nationalism, which in effect causes them to distort the truth. The film paints a slightly different picture of Al-Jazeera, which I consider one of the film's flaws. Just going by the arguments presented in the film, Al-Jazeera is going to present biased images, regardless of their intent.
I found Press Agent Rushing to be the most balanced figure in the film. Sure, he did paint an inaccurate picture of certain events to the press, and often his rhetoric was flawed, but he was at least reasonable. There were a few poignant scenes of his where he speaks with an open mind, some of which where he really questioned his and America's role in the region. In one of these scenes, he compares two nights where he had watched the Al-Jazeera network. On the first night, he saw graphic images of dead Iraqi citizens. He was startled by the images, and surprised the network would show such gore, but he was able to go on about his evening relatively undisturbed. The following evening he was watching the network again and this time saw graphic images of dead American soldiers. This time he was affected more drastically. The previous night was still fresh in his memory and he did connect the events, thus he was able to identify with most Iraqi citizens. He realized that how he felt on the second night was probably how they felt seeing the images of the first night.
Score: 7/10

Everything was going well for me on the festival until Day 5. The day started off great with Imelda, which I loved, but turned sour soon later in the afternoon. Both films I saw afterward were at the low end of horrible, and seriously reduced my enthusiasm for seeing film. I can handle seeing several decent films a day, but I can only handle so many downright heaps of crap, and definitely not two in a row. So, I scaled back my schedule for the rest of the festival and just saw a few more films during the final days. Here are those films, plus my overall awards.
5 Sides of a Coin - 3/10
Imelda - 8/10

Dear Pillow - 5/10
Delivery Method - 1/10

Mother, The - 6/10
Stander - 8/10

My Top Films of the Fest
1. Primer
2. Dig!
3. Blackballed: The Bobby Dukes Story
4. Stander
5. Assisted Living
6. Metallica: Some Kind of Monster
7. Imelda
8. Bang Rajan
9. Let the Church Say Amen
10. Haute Tension
11. Control Room
12. Proteus
13. Bright Future
14. The Snow Walker
15. The Mother
16. The Agronomist
17. Dear Pillow
18. Unknown Soldier
19. No Providence
20. Zatoichi: The Blind Swordsman
21. 5 Sides of a Coin
22. Delivery Method
Most Likely to Succeed:
These are the films I predict will have the best chance at performing well upon their theatrical release
1. Stander
2. Primer
3. Metallica: Some Kind of Monster
4. DiG!
5. Control Room

Festival Award Winners
Best Narrative
Dirty Pillow


Best Editing
In the Realms of the Unreal


Best Documentary
Dirty Work
Audience Award
Born into Brothels